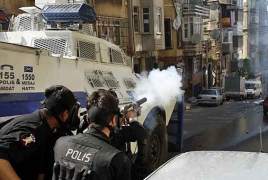 January 17, 2017 - 11:13 AMT
PanARMENIAN.Net - Turkish police captured the suspected jihadist who slaughtered 39 people on New Year's night at an Istanbul nightclub, detaining him in a raid on a residential area of the city after a long manhunt, AFP reports.
The alleged assailant, identified in the media as identified the detained man as Abdulgadir Masharipov, was found along with his four-year-old son in an apartment in the Esenyurt district of Istanbul after a massive police operation, state-run TRT television reported.
The attacker had been on the run for over two weeks, after slipping into the night following the attack on the glamorous Reina nightclub on the Bosphorus.
Reports had previously suggested he never left the Turkish metropolis, despite a tightening of borders in a bid to stop him escaping, triggering fears that a dangerous killer was on the loose in the city.
The Islamic State (IS) group took responsibility for the bloodbath, the first time it has ever openly claimed a major attack in Turkey.
It had previously been blamed for several strikes including triple suicide bombings at Istanbul airport in June.
The suspect was caught in an operation jointly carried out by the Turkish police and the spy agency MIT, Turkish TV said.
Turkish media published a picture of the detained man with blood on his face and T-shirt, his neck gripped by a policeman.
Television images showed him being roughly led away, his head bent low.