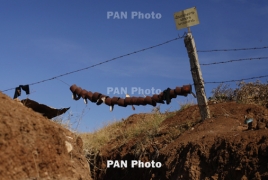 February 2, 2017 - 16:58 AMT
PanARMENIAN.Net - Social media users on Thursday, February 2 cited Azerbaijani serviceman Elnur Husseizade Elman oglu's fellow villagers as saying that he was indeed a contract soldier.
Husseizade was captured by the Nagorno Karabakh Defense Army on Wednesday, as it thwarted an attempted subversive attack by Azerbaijan in the north of the contact line.
Azerbaijani media outlets have already interviewed the captured serviceman's parents, publishing video footage and photo materials afterwards. Some news agencies have also confirmed that the captive is an active soldier.
Commenting on Wednesday's incident, Baku attempted to abandon the serviceman, declaring that he is an undisciplined soldier, who has retired and is currently not registered in Azerbaijan's armed forces.
Information posted on social networks matches with the personal information published by Azerbaijan's State Commission on Prisoners of War and Missing Persons hours before online publications went viral.
Accordingly, there is a high probability that the information provided by Husseinzade's fellow villagers is indeed accurate, Razm.info reports.