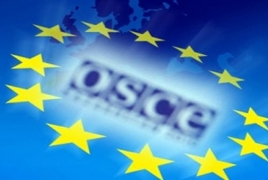 February 17, 2017 - 11:56 AMT
PanARMENIAN.Net - The Co-chairs of the OSCE Minsk Group said in a statement on Friday, February 17 that they do not accept the results of a February 20 constitutional referendum as affecting the legal status of Nagorno Karabakh.
The Co-chairs (Ambassadors Igor Popov of the Russian Federation, Stephane Visconti of France and Richard Hoagland of the United States of America) had separate meetings Thursday with Armenian and Azeri foreign ministers Edward Nalbandian and Elmar Mammadyarov,followed by a joint summit. The Personal Representative of the OSCE Chairperson-in-Office, Ambassador Andrzej Kasprzyk, also participated in the meetings.
The Co-chairs discussed with the ministers the current situation along the line of contact and the Armenia–Azerbaijan border. The mediators reiterated that there is no alternative to a peaceful solution to the conflict, stressing that war is not an option, and called upon the sides to exercise restraint on the terrain as well as in their public communications, while preparing their populations for peace and not for war.
The Co-chairs also urged the sides to strictly adhereto the 1994/95 ceasefire agreements that constitute the foundation of the cessation of hostilities. They recalled the May 2011 joint statements of their Presidents in Deauville, emphasizing that the use of force would only bring more suffering and devastation and would be condemned by the international community. They shared their views with the sides on the steps which should be taken toward implementing decisions from the 2016 Summits in Vienna and St. Petersburg aimed at stabilizing the situation in the conflict zone.
The mediators stressed to the ministers the need to demonstrate greater flexibility and to resume comprehensive negotiations on reaching a lasting settlement as soon as possible.
They said they recognize that the Armenian authorities' recent decision to return the body of an Azerbaijani serviceman was a helpful humanitarian gesture.
The two ministers, in turn, reiterated their commitment to strictly observe their international humanitarian obligations including those of the Astrakhan Declaration of October 2010 issued by the Presidents of Armenia, Azerbaijan, and the Russian Federation.
The Co-chairs said they are aware that a constitutional referendum is scheduled to take place in Karabakh on February 20. Although, the Co-chairs noted, the de-facto Karabakh authorities view the use of such a procedure as an effort to organize the public life of their population, they underscored that no countries, including Armenia and Azerbaijan, recognize Karabakh as an independent and sovereign state.
Accordingly, the Co-chairs said they do not accept the results of the February 20 referendum as affecting the legal status of Karabakh. They also stressed that the results in no way predetermine the final status of Karabakh or the outcome of the ongoing negotiations to bring a lasting and peaceful settlement to the conflict.
The Co-chairs are planning to travel to the region in March.