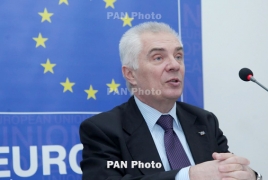 February 24, 2017 - 15:50 AMT
PanARMENIAN.Net - The European Union hasn't invested so much money and political confidence in any country other than Armenia, head of the European Union delegation to Armenia, ambassador Piotr Switalski told reporters on Friday, February 24.
Elections are slated for April 2, with nine parties and blocks having submitted candidates' lists to the Central Electoral Commission.
The Union has made so much effort to help organize credible elections, he added.
"We responded to the government's call for support and think better elections can be held this time," the ambassador said, according to CivilNet.
"We are optimistic about the upcoming elections as we see various stakeholders displaying political will for having a better vote than the previous ones."
The EU envoy said Armenian citizens must be more confident and believe that their voice will be heard this time.
Read also:Opposition MP: Vote buying rates up ahead of parliamentary elections