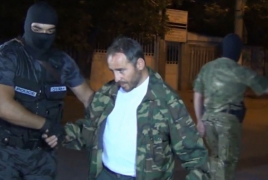 March 6, 2017 - 11:09 AMT
PanARMENIAN.Net - Jailed activist Artur Sargsyan, who has been staging a hunger strike for the past 25 days, will be released from prison, MP Nikol Pashinyan said in a Facebook post.
"We are now formulating the documents," Pashinyan said.
Sargsyan, who is being referred to by many as "the bringer of bread," was arrested in August 2016 and released in December for taking food to members of the armed Sasna Tsrer group who had seized a Yerevan police station.
Sasna Tsrer (Daredevils of Sassoun) stormed a Yerevan police patrol department in mid-July and took everyone inside hostage. Throughout the following days, the group released the captives one by one. After negotiations that lasted for a little over two weeks, the gunmen agreed to surrender to law enforcement bodies. Three police officers were killed during this period.
Sargsyan was once again arrested on February 9 and has been on a hunger strike in a prison hospital ever since.
Earlier, Pashinyan and another MP, Edmon Marukyan, visited him in prison, with Marukyan later filing a parliamentary petition to Armenia's Prosecutor General's Office demanding a change in precautionary measures against Sargsyan.