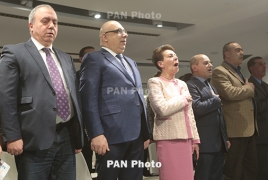 March 6, 2017 - 18:46 AMT
PanARMENIAN.Net - The Free Democrats Party of Armenia promises to promote the country's westernization when elected to the parliament.
Parliamentary elections in Armenia will be held on April 2, with nine parties and blocs running overall. MP Khachatur Kokobelyan tops the Free Democrats Party list, followed by MP Hrant Bagratyan, former lawmakers Styopa Safaryan and Anahit Bakhshyan, as well as Masis Ayvazyan.
The party's election program has 10 points, with struggle against illegal turnover high on the agenda: according to official data, shadow turnover accounts for 30% of Armenia's total output.
The Free Democrats are sure that the struggle, if successful, will help double health, education and defense spending.
Also, the party aims to fight corruption, securing from $600 mln to $1 billion additional entries to the state budget.
Another of the party's provisions sets to reduce unemployment and poverty to 10.4% and 15%, respectively.
Besides, the program seeks to reform the Armenian army, find a peaceful settlement to the Nagorno Karabakh conflict by having Artsakh's independence recognized.
The party pledges to double the amounts allocated to education and science, create adequate conditions for the development of small and medium-sized businesses, introduce tax incentives and implement a number of reforms in border communities, including higher allowance rates for child care.
Also, the Free Democrats eye a hike in pensions, as well as minimum and average salary.
Read also: Armenia elections: YELQ program taps army reform, EU association
NA elections: ORO's program vows tax holiday, abolition of monopolies