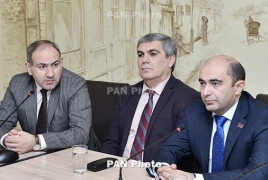 March 6, 2017 - 17:44 AMT
PanARMENIAN.Net - YELQ bloc, an opposition alliance of three parties - Bright Armenia, Civil Contract, and Republic - has unveiled their election program, consisting of 11 points.
Parliamentary elections in Armenia will be held on April 2, with nine parties and blocs running overall. YELQ's list is headed by MPs Edmon Marukyan, Aram Sargsyan and Nikol Pashinyan. The word 'yelq' means exit in Armenian.
After securing the people's support and assuming state power, the bloc pledges to first of all reform the armed forces and correct the foreign policy course.
In its program, YELQ says that only contract servicemen will guard the frontline in five years' time.
The alliance says Armenia's membership in the Eurasian Economic Union (EEU) is a foreign policy error, eyeing instead negotiations to sign Association and Deep and Comprehensive Free Trade Agreements with the European Union.
Referring to the Nagorno Karabakh (Artsakh) conflict, the bloc vows to take steps to restore the military balance between Armenia and Azerbaijan. No compromises are admissible in this context, it says.
Also, measures will be taken to open the Armenian-Turkish border with no preconditions, while "great repatriation will help double the country's population in the shortest time possible."
The parliament is set to become bicameral, with one of the houses to include Diaspora representatives who will be elected in their respective communities.
To turn Armenia into a high-tech industrial country, YELQ proposes to exempt IT firms with more than 150 employees from income tax, and free alternative energy companies from income tax and customs duties.
Also, energy and gas tariffs will be reduced by 10-15%.
In addition, the program envisages introduction of SME advocacy system, i.e. business ombudsman institution with broad powers.
Turnover tax will be imposed on companies with an annual turnover of up to AMD 500 million. Businesses will be able to choose between turnover and VAT taxes, the bloc says.
Increase in state revenues will boost salaries in budgetary institutions and pensions by at least 20%, as well as set a unified income tax at 20% and abolish artificial monopolies.
Read also:NA elections: ORO's program vows tax holiday, abolition of monopolies