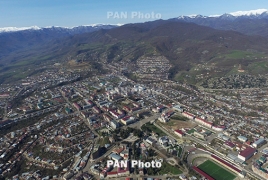 March 15, 2017 - 10:41 AMT
PanARMENIAN.Net - The HALO Trust's Safe Steps for The People of Karabakh campaign has raised $1 million and is now working with Nina and Raffi Festekjian as Campaign co-chairs to achieve a landmine-free Artsakh (Nagorno Karabakh) by 2020.
HALO Trust is the world's largest humanitarian mine clearance organization, catapulted to prominence by Princess Diana of Wales in the 1990s.
As Campaign co-chairs, the Festekjian's will help raise awareness and support in the United States and the worldwide Armenian Diaspora. They will host a fundraising event debuting Scout Tufenkjian's latest photography from Karabakh which will then travel to New York and Los Angeles for exclusive showings and events as part of its North American tour.
The people of Nagorno Karabakh are more likely to be the victims of landmines than almost any other country in the world. The area is heavily fortified with mines as a result of the Karabakh-Azerbaijan conflict of 1994. The extensive presence of landmines has crippled the population's ability to farm the land and claimed the lives and livelihoods of many inhabitants.
"One-third of landmine victims in Artsakh are children and that haunts me," said Nina Festekjian.
"Nina and I have become staunch supporters of the Safe Steps Campaign as we strongly believe that restoring a sense of security and safety for Armenians living in the affected regions is not only a fundamental human right, but also critical to their livelihood which is a key factor in the economic growth and stability of the region." said Mr. Raffi Festekjian.
Since 2000, The HALO Trust has cleared over 445 minefields, 11,200 landmines, and over 25,300 cluster munitions and other unexploded ordnance in Karabakh. To remove the remaining 70 civilian minefields, The HALO Trust has secured an anonymous donor who has committed $4M in match funding - specifically for Karabakh.
"Every contribution to the Safe Steps campaign will be matched by an anonymous foundation that is committed to achieving a Mine Free world. The donor has pledged half of the $8 million required to clear Karabakh's remaining 70 minefields – if we can raise matching funds. We are grateful to the Festekjian's who have taken a leadership role in this effort, the global Armenian diaspora, and others from around the world enthused by this lifesaving project. We've raised $1M of our $4M match-funding goal and we must now keep up the momentum to meet the match challenge and seize this opportunity to make Karabakh Mine Free," said James Cowan, The HALO Trust CEO.