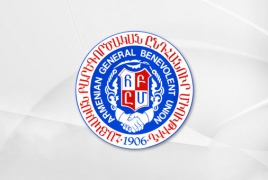 March 17, 2017 - 14:01 AMT
PanARMENIAN.Net - In 2016-2017 academic year, the Armenian General Benevolent Union (AGBU) awarded nearly $800,000 in scholarships to students in 28 countries. For almost a century, the AGBU Scholarship Program has helped further the educational pursuits of tens of thousands of promising young Armenian students enrolled at some of the world's top-ranked universities.
For the 2016-2017 academic year, 72 students enrolled in professional, masters and doctoral degree programs in the United States were awarded nearly $262,000 in the form of US Graduate Scholarships. The recipients represented a variety of fields, including law, architecture and medicine. Many hope to use their education to benefit Armenia and Armenians.
Furthermore, AGBU awarded over $380,000 to 230 students in the form of AGBU International Scholarships to those studying outside the United States. Like AGBU US Graduate Scholarship recipients, many recipients of the AGBU International Scholarships were also driven to pursue their course of study by their Armenian heritage.
A total of $113,000 was awarded to 41 recipients of the AGBU Performing Arts Scholarship. The recipients are musicians and artists of all types from Armenia and throughout the diaspora.
Financed through endowment funds established by AGBU donors since the 1920s, the AGBU Scholarship Program has contributed to the academic achievements of gifted young Armenians, offering financial assistance to full-time students of Armenian descent from close to 40 countries across six continents. Today, through added specialized initiatives, the AGBU Scholarship Program offers financial assistance to a broader range of Armenian students across the globe.