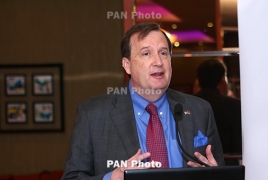 March 17, 2017 - 16:42 AMT
PanARMENIAN.Net - Electoral fraud in Armenia is not restricted to what happens on voting day at polling stations, U.S. ambassador to Armenia Richard M. Mills said Thursday, March 16.
Mills was meeting the head of the Armenian Renaissance party Artur Baghdasaryan on Thursday to discuss issues concerning the pre-election processes in the country.
Parliamentary elections will be held on April 2. Nine parties and blocs running for seats at the National Assembly have already launched their election campaigns.
"We hope that new technical equipment installed in polling stations will reduce chances of electoral fraud on voting day and help enhance voter confidence in the electoral process and election results," Mills said.
"On the other hand, it is important to remember that fraud is not restricted to what happens on voting day at polling stations.It can also cast a shadow on the atmosphere of the campaign, currently underway in Armenian towns and villages."
When giving a final assessment to the elections, Mills said both the U.S. and the rest of the international community will be paying close attention to all aspects of the electoral process, beginning from campaigns to actual elections and counting of ballots.
Baghdasaryan, in turn, stressed the importance of holding free and transparent elections, at the same time highlighting the role of diplomatic missions and international organizations in the monitoring process.
Also, Baghdasaryan briefed the ambassador on the party's political priorities and the positive and negative aspects of the electoral process.
In previous meetings, Mills discussed the current political life of Armenia with the leaders of Ohanyan-Raffi-Oskanian (ORO) bloc, as well as members of YELQ alliance.