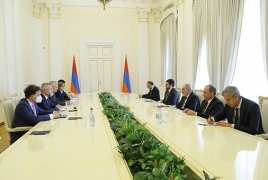 October 24, 2023 - 13:13 AMT
PanARMENIAN.Net - Chairman of the Foreign Affairs Committee of the German Bundestag Michael Roth believes sanctions must be put on the table against Azerbaijan after Baku's ethnic cleansing in Nagorno-Karabakh.
Roth published a selfie with Armenian Prime Minister Nikol Pashinyan after meeting with him in Yerevan on Monday, October 23.
"The EU strategy of equidistance regarding Armenia+Azerbaijan has failed," the lawmaker said.
"We must put sanctions against [Azerbaijan] on the table after Baku's ethnic cleansing in Karabach, support [Armenia] with a massive assistance package+strengthen the EU Mission."
On September 19, Azerbaijan launched a military offensive against Nagorno-Karabakh, which left hundreds of Armenians killed and thousands of others displaced. On September 20, the authorities of Nagorno-Karabakh agreed to a ceasefire on Azerbaijan's terms, including the dissolution of the Defense Army. On September 18, President of the Republic of Artsakh Samvel Shahramanyan signed a decree, according to which the Republic of Nagorno-Karabakh (Artsakh) will cease to exist by January 1, 2024. Over 100,000 displaced residents have already fled Nagorno-Karabakh and reached Armenia.