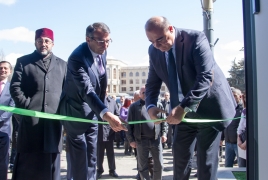 March 17, 2017 - 17:45 AMT
PanARMENIAN.Net - On March 17, Gyumri hosted grand opening ceremony of Ameriabank Kumayri Branch attended by city mayor Samvel Balasanyan, Chairman of the Management Board – General Director of Ameriabank Artak Hanesyan, member of the Management Board and Retail Banking Director of Ameriabank Arman Barseghyan, other officials and business representatives.
Along with Kumayri Branch opening, Ameriabank launched My Gyumri campaign, offering the branch customers special benefits on cards, loan products and online banking services. As part of the campaign, the bank issued АrCa payment cards bearing My Gyumri symbolic name that will be provided to Kumayri Branch customers without service and cash withdrawal fees during a 2-year period. Moreover, retail customers of the branch will have an opportunity to get Visa Classic, Visa Gold, MasterCard Standard, MasterCard Gold debit or credit cards, while corporate clients can get Visa Business and MasterCard Business cards with no service fee during the first year.
Customers of Kumayri Branch may avail themselves of the loan products under special terms, in particular, interest rates 0.5% below the standards rates of Ameriabank, while the reduced interest rates under refinancing campaign will be cut by additional 0.25%.
In order to encourage customers to use distance banking channels and to increase convenience of banking, Kumayri Branch will offer its customers complimentary online, mobile and phone banking solutions. Corporate clients will get an access to online and mobile banking systems with no service fee during 1 year. Express Banking 24/7 self-service terminals have been placed on the new branch premises and at the beginning of Ryzhkov St. (1/2 Ryzhkov St., Gyumri) enabling the bank customers not only to deposit and withdraw cash but to perform a number of banking transactions without visiting the bank.
All the specified offers will be effective until June 30, 2017, inclusive.
Located at 248/7 Abovyan St., Gyumri, Kumayri Branch has a spacious service lobby, cutting-edge technical facilities and friendly staff ready to welcome people of Shirak province.