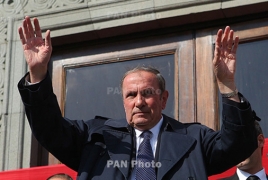 March 22, 2017 - 15:18 AMT
PanARMENIAN.Net - The Armenian people elected the Republican Party to stand at the helm of the country so they must demand that RPA solve the Nagorno Karabakh conflict, ex-president Levon Ter-Petrosyan told a TV program on Tuesday, March 21.
"The recognition of Karabakh doesn't depend on Azerbaijan; instead, the OSCE Minsk Group will determine the status of Karabakh."
The conflict has so far remained unsettled over the lack of serious effort on behalf of the international community, Ter-Petrosyan said.
According to him, some new circumstances inspire optimism that the issue will be solved in the near future. The current version of a proposed settlement is the lesser of two evils, he said.
"In case we reject this one, the next solution will be even worse."
Ter-Petrosyan heads the proportional list of Armenian National Congress (ANC)-People's Party of Armenia alliance. Following Ter-Petrosyan are Stepan Demirchyan, Levon Zurabyan, Zoya Tadevosyan, Aram Manukyan and Gagik Jhangiryan.
Elections to the National Assembly will be held on April 2. Nine parties and blocs running for seats at the National Assembly have already launched their election campaigns.