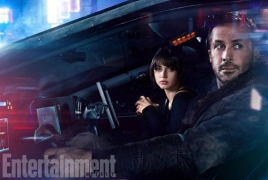 March 28, 2017 - 15:29 AMT
PanARMENIAN.Net - "Blade Runner 2049" has revealed a new footage at CinemaCon on Monday, March 27. Presented by lead actor Ryan Gosling, the footage features more of Gosling's Officer K and Harrison Ford's Rick Deckard. It also shows a better look at apocalyptic Los Angeles and Las Vegas, which are packed with snow, dust storms and androids, AceShowbiz said.
One part of the footage sees Officer K's meeting with Rick Deckard. Another part shows a very creepy Jared Leto. Playing replicants manufacturer, Leto is seen caressing a newborn replicant in the footage. "Every civilization was built off the back of a disposal workforce," says Leto's character. "We make angels, but I can only make so many. Happy birthday," he adds.
Gosling explained that the movie had a minimum use of CGI. "Every location was real," said Gosling. "Every set was there... It was a fully functioning, living, breathing world," he added.
Thirty years after the events of the first film, a new blade runner, LAPD Officer K, unearths a long-buried secret that has the potential to plunge what's left of society into chaos. K's discovery leads him on a quest to find Rick Deckard, a former LAPD blade runner who has been missing for 30 years.
"Blade Runner 2049" is set to be released in the U.S. on October 17.