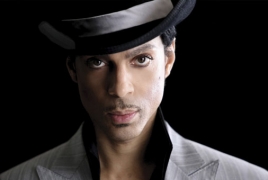 April 19, 2017 - 12:54 AMT
PanARMENIAN.Net - It has been almost a year since Prince passed away. To honor the first anniversary of the legend's death, fans can look forward to an EP titled "Deliverance" which consists of Prince's undiscovered studio recordings from 2006 to 2008. The set is going to be released on April 21 via Rogue Music Alliance, AceShowbiz said.
The EP features six tracks which were written and produced while Prince was an independent artist. The late musician wrote them with his then-recording engineer, Ian Boxill, as a protest of injustice in music industry. "I believe 'Deliverance' is a timely release with everything going on in the world today, and in light of the one-year anniversary of his passing," Boxill said in a statement.
He then continued, "I hope when people hear Prince singing these songs it will bring comfort to many. Prince once told me that he would go to bed every night thinking of ways to bypass major labels and get his music directly to the public. When considering how to release this important work, we decided to go independent because that's what Prince would have wanted."
The lead single off the upcoming project has already been released. The track which is also titled "Deliverance" has religious and intense vibes. "This is not religion, but common sense/ It's time for you to get down, get down/ Get off the fence," Prince croons. "No son shall die, no mother shall cry/ All in favor, say aye/ Because time's so hard to deal with/ Deliverance is at hand, at hand."
"Deliverance" is now available for pre-order on iTunes, Google Play and Amazon.
"Deliverance" track list:
"Deliverance"
"I Am"
"Touch Me"
"Sunrise Sunset"
"No One Else"
"I Am (Extended)"