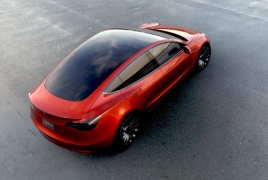 April 21, 2017 - 11:54 AMT
PanARMENIAN.Net - Tesla is recalling 53,000 of its Model X and Model S vehicles built between February and October 2016. Some of these might have a manufacturing flaw that prevents the electronic parking brake from being switched off. While it hasn't been linked to safety issues or accidents yet, the cautious automaker is voluntarily recalling a large number of vehicles just to be safe, Engadget said.
A small gear built by one of the company's third-party suppliers is to blame, and Tesla figures less than five percent of the 53,000 recalled vehicles might have the part -- but better safe than sorry. The replacement process takes only 45 minutes, and assuming every potentially affected vehicle is brought in to Tesla, the recall process will be over by October 2017.
The move is typical for Tesla: It issued an early recall of 90,000 Model S sedans in November 2015 for safety concerns (again, before a flaw caused any accidents) and pulled back its just-released Model X SUVs in April 2016. It also recalled and replaced almost 30,000 wall chargers back in 2014.