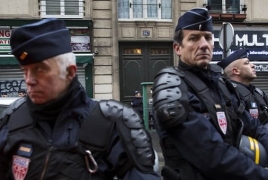 April 21, 2017 - 16:46 AMT
PanARMENIAN.Net - France said its security forces were fully mobilized for a presidential election at the weekend after the killing of a policeman by an Islamist militant threw a dark shadow over the last day of an unpredictable campaign, Reuters reports.
With the first round of voting in the two-stage election due to take place on Sunday, centrist Emmanuel Macron still held on to his position as frontrunner in the closely contested race.
An Elabe survey of voter intentions, carried out before the Thursday night shooting on the Champs Elysees shopping avenue in central Paris, showed Macron with 24 percent of the first-round vote and far right leader Marine Le Pen falling back slightly to 21.5 percent.
Two other candidates - former conservative prime minister Francois Fillon and the far left's Jean-Luc Melenchon - were snapping at their heels with 20 and 19.5 percent respectively.
Campaigning and the publication of voter surveys are banned from midnight on Friday until polling stations close. Sunday's round of voting will be followed by a second-round runoff on May 7 between the top two candidates.
The Champs Elysees attack was claimed by militant group Islamic State. One attacker was killed and officials said they were looking for a potential second suspect.
Emerging from an emergency meeting of security officials, Prime Minister Bernard Cazeneuve announced a full mobilization of security forces, including elite units, to back up 50,000 police already earmarked to ensure citizens' safety during the election.
"The government is fully mobilized. Nothing must be allowed to impede the fundamental democratic process of our country," Cazeneuve told reporters. "It falls to us not to give in to fear and intimidation and manipulation which would play into the hands of the enemy."
The shooting abruptly pushed national security up the agenda, potentially making the outcome of Sunday's first round vote even more difficult to call. With their hardline view on security and immigration, the positions of Le Pen and Fillon may resonate more strongly for some voters.