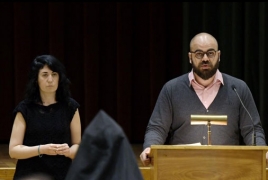 April 24, 2017 - 12:12 AMT
PanARMENIAN.Net - Two Turks - one Muslim, the other Christian - spoke at a commemoration in Worcester on Sunday, April 23 of the Armenian Genocide, the mass killings of 1.5 million Armenians that began 102 years ago at the hands of the Ottoman Empire, Telegraph.com reports.
"We have a duty to face our past," said Burcin Gercek, a journalist and author from Istanbul who is a doctoral student at Clark University's Strassler Center for Holocaust and Genocide Studies.
"Of course, justice cannot be done for killed people," she said. "It's too late for that. But at least a recognition, an official apology, and some steps concerning the Armenian cultural heritage in Turkey could be positive steps."
The successor to the Ottoman Empire, today's Republic of Turkey, has rebuffed calls to formally recognize the mass slayings as genocide or apologize.
For the descendants of survivors of what has been called the Armenian Holocaust, the crimes committed by the Turks a century ago remain closely felt.
"May God bless all victims who did not even have a gravestone," said Emre Can Daglioglu, 31, an Orthodox Christian from Antakya, in southern Turkey, on the Syrian border.
"We have to apologize for what's happened in the Ottoman Empire, not only in 1915 but at the end of the 19th century," he said. "I am trying to pay my debt in that sense to the Armenians."