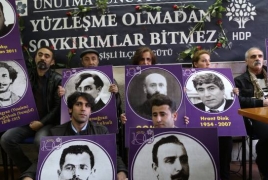 April 24, 2017 - 18:28 AMT
PanARMENIAN.Net - The Turkish police in Istanbul has banned the Peoples' Democratic Party (HDP) from holding an event titled Time to Face the Armenian Genocide commemorating the 102nd anniversary of the Armenian Genocide near the city's Pangalti Metro, Panorama.am reports citing Ermenihaber news agency.
The source notes that the HDP members held talks with the law enforcement officers to receive permission for organizing the event, however, to no avail. The police informed that they "have orders from higher –ups to ban the event." Afterwards, the participants of the rally headed to the HDP party's building to hold the event, waving posters reading "Never let it be forgotten" and "The Genocide won't stop unless confronted".
HDP member Melis Tatan delivered a speech at the event, noting that the 1915 Genocide has not ended. "It continues with the assassinations of Hrant Dink, Sevag Balikci and Maritza Kucuk, failing to bring the real culprits to responsibility and concealing the reality," he added.
Speaker of the Istanbul's Nor Zartonk initiative Norayr Olgar also delivered a speech, noting that the genocide committed against the Armenians continued in Kurdish provinces of Turkey. He called on Turkey to face the evidence of the past 102 years to prevent the future deportations. "There can be no peace without facing the Genocide," he added.