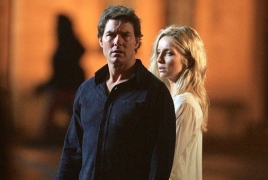 May 20, 2017 - 16:56 AMT
PanARMENIAN.Net - The final trailer for "The Mummy" has been released for the audience's viewing pleasure. The trailer offers a better look at Nick Morton's (Tom Cruise) struggles to defeat monster Ahmanet (Sofia Boutella) as well as reveals tidbits of new details from the movie, AceShowbiz said.
"How did you get out of that plane?" asks Jenny (Annabelle Wallis) to Nick after a plane crash scene is glimpsed. "There's no single scratch on your body," she adds.
Dr. Jekyll (Russell Crowe) later tells Nick, "You are alive because you were cursed." He goes on saying that Nick is cursed by the ultimate evil. Elsewhere in the trailer, Dr. Jekyll reveals that "it takes a monster to defeat a monster," which seemingly hints that Nick has turned into a monster himself after the curse.
Tom Cruise headlines a spectacular, all-new cinematic version of the legend that has fascinated cultures all over the world since the dawn of civilization: "The Mummy". Thought safely entombed in a tomb deep beneath the unforgiving desert, an ancient princess (Sofia Boutella of "Kingsman: The Secret Service" and "Star Trek Beyond") whose destiny was unjustly taken from her is awakened in our current day, bringing with her malevolence grown over millennia and terrors that defy human comprehension.
"The Mummy", which marks the first installment of Universal Monster Cinematic Universe, will hit U.S. theaters on June 9.