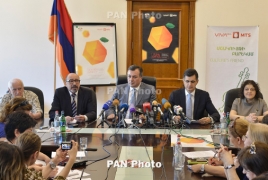 June 5, 2017 - 18:26 AMT
PanARMENIAN.Net - One of the most remarkable events of the year, the Golden Apricot Yerevan IFF will complement the cultural life of the capital of Armenia from July 9 to 16.
Representatives of the Golden Apricot Yerevan IFF, the Ministry of Culture and General Partner of the festival VivaCell-MTS announced the start of the 14th edition of the Festival on Monday, June 5.
The press conference started with the presentation of the official poster. The apricot-shaped geometric figure symbolizes the 14th edition of the festival. The speakers at the press conference, the Minister of Culture of Armenia Armen Amiryan, VivaCell-MTS General Manager Ralph Yirikian, Golden Apricot IFF Founding Director Harutyun Khachatryan, Programs Director Mikayel Stamboltsyan, and Artistic Director Susanna Harutyunyan, reflected on the importance of the long-term cooperation, and presented some of this year's programs. In particular, they announced the names of international jury members of the main competition programs, as well as the titles of the opening and the closing films.
The opening of the festival will be marked by the screening of Hamo Beknazaryan's "Khaspush", 1927; and will be accompanied by Vahagn Hayrapetyan and his band, which will perform the music specially written for the occasion. This year celebrates the 90th anniversary of the movie. The film is about the revolt of Khaspushes, socially deprived peasants and townspeople of Persia, and the first Armenian historical-revolutionary film.
The closing ceremony will host Joe Berlinger's "Intent to Destroy", which was shot this year. The premiere of the film telling about the Armenian Genocide was first screened at the Tribeca Film Festival. The director of the film has met with historians and scholars to shed light on the Armenian Genocide and the continuing denial by the Turkish government.
This year the Golden Apricot received about 1100 film submissions from 96 countries. More than hundred films were included in the competition and non-competition programs.
"There are events, which leave an invaluable mark on the public life: they shape minds, create opportunities to bolster the country's reputation, and to educate the coming generation. I won't be mistaken if I say the Golden Apricot Film Festival is one of those events in Armenia. It shapes a system of values, uses the language of the art to raise problems, and to sow seeds of beauty and vigor. It has been the visiting card of Armenia for 14 years in a row. I am proud of our cooperation and of the festival's achievements for all these years," said Yirikian.
This year again the non-competition programs of the Golden Apricot – the Yerevan Premieres, Retrospectives, and Tributes – will provide the spectators and movie lovers with masterpieces of the world cinema.
International jury members have been formed for the international feature, documentary, and the national Armenian Panorama competitions.
Film screenings will be accompanied by master-classes.