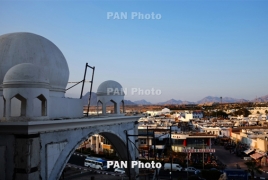 June 12, 2017 - 17:21 AMT
PanARMENIAN.Net - An often fiery government critic, Egyptian journalist Khaled al-Balshi has been arrested, had his operations monitored, and staff harassed by police for years. Yet his website Al-Bedaiah, a rare dissident voice in Egypt, had never been touched, Reuters says.
On Sunday, June 11 that changed when it suddenly went blank with no warning after being blocked, part of what Balshi called an unprecedented and far-reaching state crackdown on scores of news websites in recent weeks.
"Let's be clear, the Egyptian websites going through this are dealing with a long-term shutdown -- this is not short term," said Balshi from his downtown Cairo office, where four work stations sat idle, because staff feared coming to work in case of arrest.
Balshi's website was the 57th blocked since May 24, according to the Association for Freedom of Thought and Expression, a non-government organization tracking the affected sites through software that monitors outages.
Journalists see the campaign against them as a step toward banning all but the most state-aligned media, effectively reversing the private media boom that flourished in the final decade of former president Hosni Mubarak's rule and which they say helped push him from power in 2011.
Though no precise figures on readership are available, Egypt enjoys an active private media that includes widely read print and web format publications as well as popular late-night talk shows. State newspapers still maintain wide circulation.
The spike in censorship has come as a surprise, even to journalists long-accustomed to reporting within strict red lines in Egypt where direct criticism of the military, the president, and judiciary are considered taboo and punishable by jail time.
The government has offered no comment on the reason behind the blockages and the Ministry of Communication and Information Technology had no immediate comment.