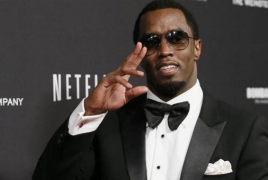 June 12, 2017 - 19:52 AMT
PanARMENIAN.Net - Forbes has just announced its Celebrity 100 list – and you'll never guess which celeb has made it to the top. And no, it's not Adele, Digital Spy said.
Topping the list and claiming the accolade of the richest person in entertainment is none other than... Diddy. That's P Diddy, Sean Combs or Puff Daddy, depending on what era you're in.
Yep, beating out even the likes of Beyoncé, Diddy made it to the top of the list thanks to the Bad Boy Family Reunion tour, his team-up with Ciroc, and selling part of his clothing line.
Racking up $130m in the past year alone, Diddy has launched himself to the top of the pile after hitting the 22nd spot last year.
While we're still no closer to finding out why Diddy chucked his $500,000 chain into a crowd last year, at least we now know he can afford it, Digital Spy said.
The rest of Forbes' list is less surprising, with Queen Bey hitting second place with $105m thanks to the critically-acclaimed and iconic visual album Lemonade.
Everybody's favourite muggle JK Rowling is at number three on the Celebrity 100, after raking in $95m – 20 years later and Harry Potter is still paying dividends.
The top 10 of Forbes' coveted Celebrity 100 list are as follows:
1) Sean Combs - $130m
2) Beyoncé - $105m
3) JK Rowling - $95m
4) Drake - $94m
5) Cristiano Ronaldo - $93m
6) The Weeknd - $92m
7) Howard Stern - $90m
8) Coldplay - $88m
9) James Patterson - $87m
10) LeBron James - $86m