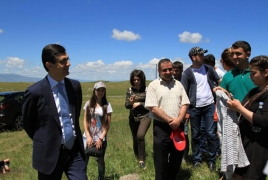 June 14, 2017 - 18:30 AMT
PanARMENIAN.Net - VivaCell-MTS specialists have held master classes on the territories of two base stations of the company operating by solar electric supply sources, located along the Yerevan-Gyumri section of an interstate highway.
Photon college in Gyumri is one of the high schools, included in the PTC experimental study program and conducts Basics of Telecommunications courses with the support of VivaCell-MTS.
The company's specialists regularly organize professional trainings for teachers of the subject and students. To strengthen theoretical knowledge and to share practical skills, the specialists organize tours after classroom sessions, taking the students and teachers to the base station.
The base stations operating along the Mastara-Maralik motorway are special: their supply of electricity comes from solar batteries. This is a perfect solution especially for locations with sparsely-populated areas, where electricity supply is a problem. Using solar supply sources of electricity for VivaCell-MTS base stations reduces the consumption of electric power and the infrastructure maintenance expenses.
"In the age of technological development, an hour equals a second. Every day brings about new demands. We need to be always ready for new solutions, which are based on innovation, demand, responsibility, but never consumerism. These stations powered by solar energy are a result of such an attitude. Whatever you get with the course is based on more than ten-year experience of a leading telecommunications company. Appreciate it, never stop enhancing your mind and be responsible," said VivaCell-MTS General Manager Ralph Yirikian.
To remind, according to the quadrilateral memorandum (signed by RA Ministry of Education and Science, Synopsys Armenia, VivaCell-MTS, and Unicomp) the Basics of Communication has been included in the curricula of Gyumri Photon, Yerevan Quantum colleges, physics and mathematics school after Artashes Shahinyan, and mathematics and natural sciences school in Vanadzor, as well as the high schools under NPUA in Yerevan. Five more high schools will be involved in the program starting from 2018.