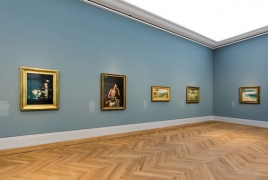 June 19, 2017 - 14:33 AMT
PanARMENIAN.Net - Following its opening exhibition, the Museum Barberini presents its first international cooperation project with the exhibition From Hopper to Rothko: America's Road to Modern Art from June 17 to October 3, 2017. For this, The Phillips Collection in Washington, D.C., has sent 68 works of early American modern art to Germany for the first time, Art Daily reports.
American art from the first half of the twentieth century is still relatively unknown in Europe. The three central themes of the exhibition – landscapes, portraits, and cityscapes – present a cross-section of American painting. The show traces the beginnings of abstract painting, which also developed during this time. After 1945, this culminated in Abstract Expressionism, and New York City became the new center of the art world. Works from The Phillips Collection highlight all of these developments.
The exhibition From Hopper to Rothko: America's Road to Modern Art provides a panorama of subjects and styles ranging from Impressionism to Abstract Expressionism – taking visitors on a journey through landscape art, portrait painting, and cityscapes to Color Field Painting, with works along the way by George Inness (1825–1894), Marsden Hartley (1877–1943), Georgia O'Keeffe (1887–1986), Richard Diebenkorn (1922–1993), and more.
With this joint project, Dr. Ortrud Westheider, Director of the Museum Barberini, continues the Museum Barberini's programmatic approach to showing world-famous works of art in thematic exhibitions. Following her 2009 Hamburg exhibition Modern Life: Edward Hopper and His Time, she now presents the diversity of American modern art in eight thematic galleries. "America's road to modern art is exemplified by works from The Phillips Collection. This partnership is a great honor for the Museum Barberini."
Dr. Dorothy M. Kosinski, Director of The Phillips Collection, Washington, D.C.: "We are pleased to send major works from our collection to Potsdam in order to present American modern art to Europe. The newly opened Museum Barberini is an excellent place to showcase these objects."