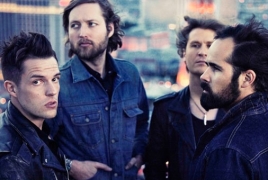 June 24, 2017 - 16:08 AMT
PanARMENIAN.Net - The Killers have shared a few details on tracks from their new album 'Wonderful Wonderful', NME said.
The record, reportedly due this September, was previewed last week (June 15) by lead single 'The Man', a stomping cut of boisterous glam-rock. Elsewhere, the Las Vegas group have also performed 'Run For Cover' from the record live.
Speaking to Entertainment Weekly, frontman Brandon Flowers describes 'Wonderful Wonderful' as "the closest thing we've done to 'Sam's Town'."
The record came about, as drummer Ronnie Vannucci explains, through questioning, "How do we make a rock record and make it honest and true and have passion but make it different?"
"There was a lot of experimentation," Vannucci says.
Flowers and Vannucci also shared some information on specific tracks from the album. 'The Man', Flowers states, came about as an antithesis to some of the album's more delicate numbers, such as 'Rut' and 'Some Kind Of Love'. "Those songs came and it was like, 'These are more tender or contemplative than we've ever been, how did we get to this point?'" Flowers says. "Reflecting on that was where 'The Man' came from."
'Run For Cover', meanwhile, is a nine year old track, revamped for the new record. "My brother once a year will send it to me," Flowers explains. "He loves it. It's just a gentle reminder that this song exists, and he wants it to be heard." The new version is a big evolution on the original, though. "It was slower, sweeter, and busier," Vannucci says. "We had to get rid of the weeds, if you will."
The pair also explain that 'Life To Come' came about through collaboration with über-producer Ryan Tedder (OneRepublic, Adele, Beyoncé), while 'Wonderful Wonderful"s title-track features "some of the coolest production on the record."
"It looked like a kid's playroom with Legos everywhere, except instead of Legos it was pedals and wires and a lot of experimentation," Vannucci says of producer Jacknife's studio, where 'Wonderful Wonderful' was recorded.