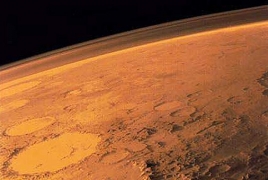 July 20, 2017 - 12:28 AMT
PanARMENIAN.Net - Elon Musk suggested that SpaceX will abandon its plans to land the company's Dragon capsule on Mars — a mission the company had been aiming to do as early as 2020, The Verge says.
SpaceX will not fully develop the landing technique it was going to use to land the Dragon on Mars. Known as the Red Dragon mission, the capsule was meant to lower itself to solid ground using engines embedded in its hull, and then touch down gently on landing legs in a method known as propulsive landing. But Musk said the company will come up with another way to land vehicles on the Martian surface.
"There was a time when I thought that the Dragon approach to landing on Mars... would be the right way to land on Mars," Musk said at the ISS R&D Conference in Washington, DC on Wednesday, July 19. "But now I'm pretty confident that is not the right way. There's a far better approach. That's what the next generation of SpaceX rockets and spacecraft is going to do." Musk did not explain what that approach would be, though, or which vehicles the company would try to land on Mars in the future.
Later, Musk tweeted that SpaceX is still going to try to do a propulsive landing on Mars at some point, just with a bigger vehicle.
The decision means SpaceX's Dragon capsules will stick to landing with parachutes here on Earth, too. That's the current method SpaceX uses to land its cargo Dragon capsule, a version of the vehicle used to deliver supplies to and from the International Space Station. The company has been working on an updated version of the capsule called Dragon 2 that will eventually carry people back and forth from the ISS, and SpaceX hoped to have that vehicle land propulsively with people on board. Musk said now that's not going happen, since the company will not be adding landing legs to the Dragon 2.