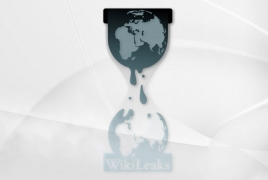 August 2, 2017 - 14:38 AMT
PanARMENIAN.Net - WikiLeaks has published in a searchable form roughly 20,000 emails allegedly stolen from French President Emmanuel Macron's campaign, which include mentions of Pope Francis' visit to Armenia in 2016 and the IT sector as a means for possible economic growth in the country.
"During his three-day visit to Armenia, the oldest Christian nation, Pope Francis referred to the genocide suffered by the Armenians in 1915-16. These words have sparked Turkey's ire," an email dated June 27, 2016 says.
Also, the email cites Reuters and Al Jazeera coverage of the pope's visit to Armenia, which said that the pontiff described the mass killings of 1.5 Armenians as Genocide and prayed so that such incidents never happen again.
Another email, dated May 11, 2016, cites information from an RFE/RL report, which reads: "Heavily dependent on agriculture, Armenia suffers from a high unemployment rate. But the rise of computer industry could change the economic situation."
WikiLeaks had earlier revealed former U.S. presidential candidate Hillary Clinton's email exchanges on Armenian issues.