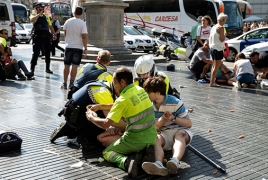 August 18, 2017 - 12:54 AMT
PanARMENIAN.Net - The Armenian foreign ministry said on Friday, August 18 that no Armenian citizens or nationals were injured or killed in a van attack in the Las Ramblas area of Barcelona and the coastal town of Cambrils.
Citizens from at least two dozen countries have been injured or killed in the attack in, The Guardian citedCatalan authorities as saying.
By Friday morning the death toll stood at 13 bystanders killed and more than 100 injured.
So far, the youngest victim of the attacks is thought to be a three-year-old girl, Spanish media reported. She died shortly after she was taken to hospital. A six-year-old girl of unknown nationality has also been taken to hospital with a cerebral haemorrhage, an official at Vall d'Hebron university hospital told the New York Times.
So far, the British foreign office has received no confirmed reports of British citizens injured or killed, but Chris Pawley – 30, a survivor of the Manchester bombing – was visiting Spain with his partner and was in the area when the attack occurred. He told the Manchester Evening News he couldn't believe he had been caught up in a second terrorism incident in fewer than six months. He had just left the Ariana Grande in May when the bomb detonated.
Pawley said of Thursday's attack: "There was police everywhere and ambulances, the shops started putting the shutters down."
"We have just come back to the hotel, as we were caught up in the arena attack – can't believe it."
France has confirmed that there are 26 of its citizens injured with 11 in a serious condition. The Spanish newspaper La Vanguardia, quoting police, said three Germans were also among the fatalities.
Belgium's foreign affairs minister, Didier Reynders, confirmed on Twitter that one of its citizens was killed in the attack, and also said the Belgian embassy was in touch with hospitals in the area regarding other possible victims.
The Hague said three Dutch were injured, and a Greek diplomat reported three nationals had been wounded – a woman and her two children. China also confirmed a citizen of Hong Kong had minor injuries, while the US state department said it knew of one American with minor injuries.
In Australia, foreign minister Julie Bishop said four Australians were hurt: two women in a serious but stable condition, and two men who were "directly affected" and had retreated to their hotel to seek medical attention in the morning. One Australian is still missing, the minister said.
Throughout the long, chaotic night there were urgent appeals on social media for English, Italian and French translators to make their way to hospitals and clinics to assist staff attending the dozens of non-Spanish speaking victims.
Overnight, many countries set up emergency helplines for their citizens caught up in the violence, and sent out warnings for those trapped in the affected area to remain inside while counter-terrorism efforts were underway.