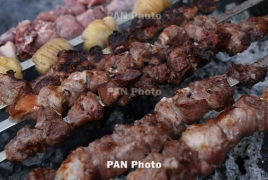 August 23, 2017 - 16:29 AMT
PanARMENIAN.Net - Choreg, khadayif, nazook, khurabia and simit will be served along with kebab, spinach pie and other Armenian treats at the St. Mark Armenian Fest on Sept. 3 in Springfield, Massachusetts, MassLive.com reports.
The event will feature Armenian food fresh off the grill, baked goods to buy and take home, live Armenian music, dancing and tours of the church.
"The St. Mark community strives to keep our Armenian traditions alive with our annual festival and to share our culture with the community for those who want to learn more about Armenian traditions," commented Talene Jermakian, a Parish Council member at St. Mark's. "Anyone who enjoys delicious foods and live music will enjoy the Armenian Fest."
The St. Mark community dates back nearly 100 years to the first influx of immigrants settling in Western Massachusetts after fleeing Genocide in their homeland, present day Turkey. Despite the economic hardships they lived through, as descendants of the first nation that accepted Christianity as a state religion in 301 AD, establishing a spiritual home remained one of their top priorities. They first rented the Christ Church Cathedral, later purchasing a church on Dresden Street and named St. John the Divine Armenian Church. In 1983 the current church was consecrated.