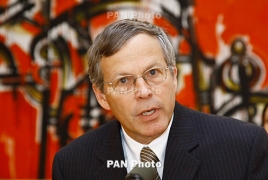 August 24, 2017 - 14:47 AMT
PanARMENIAN.Net - Former U.S. ambassador to Armenia John Heffern who oversees European and NATO policy is being forced out of his job, the latest senior civil servant to be pushed aside in the Trump administration's shake-up of the State Department, current and former officials said, according to Foreign Policy.
Heffern, a veteran diplomat, is currently the acting assistant secretary for European and Eurasian affairs. He was due to hand over that post to a political appointee, A. Wess Mitchell, who has yet to be confirmed by the Senate.
Heffern would have then returned to his permanent assignment as principal deputy assistant secretary for European affairs, serving as a key lieutenant to Mitchell. The principal deputies play a crucial role in helping political appointees navigate the government bureaucracy.
Heffern will remain an employee at the State Department, but it's unclear where he'll be assigned next.
Mitchell, the White House pick for the position, has spent years writing and lecturing on European issues, leading a think tank dedicated to the subject, but has no government experience. With Heffern's ouster, Mitchell — if confirmed — loses an experienced State Department hand who knows the intricacies of European diplomacy.
From 2011 to 2014, Heffern served as ambassador to Armenia, a politically charged assignment given the Armenian-American community's political activism in Washington. But Heffern "did a really good job of navigating those waters and, as a result, has a good reputation on the Hill," one Senate staffer said.