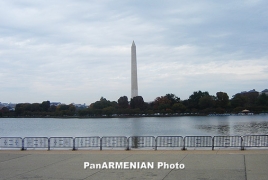 August 30, 2017 - 13:19 AMT
PanARMENIAN.Net - A grand jury in the U.S. capital issued indictments against 19 people, including 15 members of Turkish President Recep Tayip Erdogan's security detail, for their brutal May 16 attack against peaceful protesters gathered in front of the Turkish Ambassador's residence in Washington, DC, reported the Armenian National Committee of America (ANCA).
The May 16 protest in front of the Turkish Ambassador's residence was a continuation of a demonstration held earlier in the day in front of the White House, co-hosted by the ANCA. As President Donald Trump met with President Erdogan, human rights and religious rights groups were joined by representatives of the Kurdish, Yezidi and Armenian communities to call attention to the Erdogan regime's escalating repression against free press, the Kurdish and other ethnic communities, as well as Turkey's ongoing obstruction of justice for the Armenian Genocide.
All 19 defendants were indicted on charges of conspiracy to commit a crime of violence, with a bias crime enhancement – charges of hate crimes - which carry a maximum 15 years prison sentence. Many were indicted on additional charges.
Sixteen of the defendants were already charged on June 13 by the Metropolitan Police Department, two of whom have been arrested and will be facing initial court hearings on September 7. The rest of the defendants are still at large. The three new individuals indicted today were all part of President Erdogan's security detail.