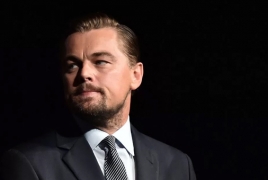 September 2, 2017 - 13:58 AMT
PanARMENIAN.Net - Warner Bros. would love to see Leonardo DiCaprio as the Joker in the studio's planned origin tale, according to sources. But it's way too early to predict whether the versatile star might be interested, and no offer has been made, Variety says.
The studio's Joker standalone film, to be directed by Todd Phillips, is expected to have Martin Scorsese on board as an executive producer.
It makes sense that a Scorsese-led Joker would look to involve DiCaprio — they've teamed on "Gangs of New York," "The Aviator," best picture winner "The Departed," "Shutter Island," and "The Wolf of Wall Street."
But the Joker project could be a real longshot since DiCaprio, who hasn't made a movie since he won best actor for "The Revenant," has been attached to numerous projects that never got made, some with Scorsese. The duo are currently in development on "Devil in the White City" and "Killers of the Flower Moon."
Though he's been the serious leading man in dramas such as "J. Edgar," "Body of Lies," "Revolutionary Road," "Blood Diamond," and "Inception," he showed his capability as an evil villain in Quentin Tarantino's "Django Unchained."