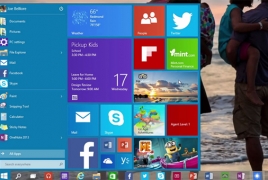 September 4, 2017 - 14:32 AMT
PanARMENIAN.Net - Microsoft has confirmed that the Autumn Creators Update for Windows 10 will be released on October 17 as a free download, The Inquirer reveals.
The latest version of "Windows as a Service" will "introduce new, fun, innovative ways to empower individuals and organisations to express their creativity".
The main addition will be Windows Mixed Reality front and centre, to reflect the wide range of silly hats that are coming out in time for the holiday season, in the hope you can drown out the snores of your gin soaked Gran with some alternative life.
Also on the list - Windows Inking - which will allow you to draw onto PDFs, a new Photo and Video app, OneDrive Files OnDemand - the long promised ability to save ghost copies of your files in OneDrive to save disc space, a better game mode, an improved Windows Defender, and "revolutionary" eye-tracking technology aimed at those unable to communicate or navigate through conventional means.
"This is the core of Fall Creators Update, it's all about unleashing customers' creativity and having some fun while at the same time keeping them safe and secure" burbles Microsoft from its Berlin Ivory Tower at this year's IFA.
Windows Mixed Reality devices, like the one we tried from Acer, are also coming from Lenovo, Asus, Acer, Dell and HP. You won't be able to move for the ruddy things, and at under $300, you'll probably find you "need" one.
Headsets will go on sale on October 17 to coincide with the rollout.