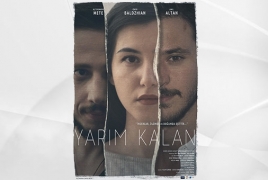 September 5, 2017 - 16:34 AMT
PanARMENIAN.Net - The movie "Unfinished" (Yarim Kalan) about a love affair between a Turkish man and a young Armenian woman will hit big screens in Turkey on Friday, September 8, Ermenihaber.am reports.
According to Turkish media reports, the film makes references to "the events of 1915" among other things.
By "the events of 1915," Turkish news agencies mean the Armenian Genocide, during which 1.5 million innocent Armenians were murdered or marched to death in the Ottoman Empire between 1915 and 1923.
Iskui Baldzhian, Anil Altan and Ali Buhara Mete were cast for the leading roles.
In the movie, Iskui arrives in Istanbul for studying at a local university where she meets Mert. The two fall in love with each other, but Iskui's brother and the young man's family oppose such a union.