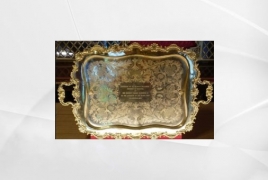 September 6, 2017 - 12:41 AMT
PanARMENIAN.Net - The gold tray that Ethiopian Emperor Haile Selassie commissioned from Armenian jeweler Bedros Sevadjian as a gift to Queen Elizabeth during her state visit to Ethiopia in 1965 is now on display at Buckingham Palace.
It forms part of an exhibition featuring gifts from around the world that Her Majesty has received during her long reign, The Armenian Weekly reports.
Sevadjian's daughter, R.P. Sevadjian remembers:
"I was just 10 years old when Queen Elizabeth II of England visited Ethiopia. In Addis Ababa, we were given the day off school when she arrived, so that we could line the streets and cheer, armed with little Ethiopian and British flags. Some Armenian girls, from The English School, went in Armenian daraz (national dress).
"The visit was eagerly awaited. The Emperor had a very special relationship with the Queen of England—having lived in exile in the United Kingdom during the years of Italian fascist occupation of Ethiopia, and the British having helped in the liberation of his country. In 1954, Haile Selassie I made a state visit to the U.K., and in 1965 Queen Elizabeth and Prince Philip were warmly welcomed on their state visit to Ethiopia.
"My father was commissioned to make the gold tray to be presented to the Queen during her visit. He designed it and made it, using pure gold from the Adola Mines in the south of Ethiopia. It measures about 50 x 80 cm and weighs about 14 kg."