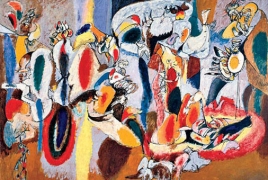 September 6, 2017 - 12:25 AMT
PanARMENIAN.Net - Paintings by prominent Armenian-American artist Arshile Gorky are on display at as part of a new exhibition at the Yale University Art Gallery.
Investigating the experience of exile in the visual arts, the collection spans 200 years of art history and presents works by more than 40 exiled artists from nations across Europe, the Middle East, East and Southeast Asia, and the Americas, YaleNews says.
"After fleeing the Armenian Genocide, Arshile Gorky combined Modernist influences, such as the work of Pablo Picasso, with motifs rooted in the Byzantine art of his native culture," the publication says.
Gorky spent most his life as a national of the United States. He has been hailed as one of the most powerful American painters of the 20th century. As such, his works were often speculated to have been informed by the suffering and loss he experienced in the Genocide.
Titled "Artists in Exile: Expressions of Loss and Hope," the exhibition runs through December 31.