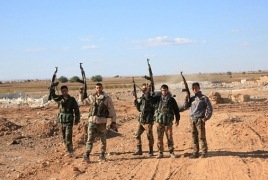 September 11, 2017 - 12:53 AMT
PanARMENIAN.Net - The Islamic State group has been fully expelled from the Thardeh Mountains in western Deir ez-Zor, the Syrian military announced on Sunday, September 10 evening, Al-Masdar news reports.
The Thardeh Mountains overlook the western sector of the Deir ez-Zor military airport and provided the Islamic State forces a buffer around the Panorama and Thayyem areas in the provincial capital's outskirts.
With the Thardeh Mountains clear, the Syrian Arab Army has officially secured the western perimeter of the Deir ez-Zor military airport, with only the southern and eastern flanks left to go before the entire installation is IS-free.
The Syrian Arab Army is now in the process of clearing the southern flank of the airport, as they continue their large-scale assault on the Jafra Farms.