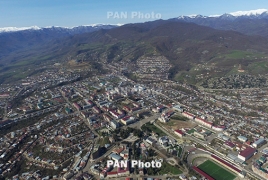 September 13, 2017 - 12:56 AMT
PanARMENIAN.Net - The Armenian Assembly of America (Assembly) has intensified its advocacy on Capitol Hill, prompted by security concerns as a result of Azerbaijan's increased aggression along the borders of Armenia and Artsakh (Nagorno Karabakh), which has included the targeting of and substantial damage to a kindergarten in Armenia's Tavush province.
From the Assembly's testimony in the House and Senate and its outreach to Members of Congress, the Assembly remains dedicated to underscoring the need to hold Azerbaijan accountable for its actions. The Assembly also continues to emphasize the importance of humanitarian and development aid for the people of Artsakh.
House Foreign Affairs Committee Chairman Congressman Ed Royce (R-CA) reiterated his support for assistance to Artsakh as well as a robust cease-fire monitoring system, which Armenia and Artsakh have agreed to implement. When he met with Assembly Terjenian-Thomas interns this summer, Royce highlighted the letter he spearheaded with Ranking Member Eliot Engel (D-NY) which proposes three concrete steps that would save lives in Artsakh and help to avert war.
In addition, the Assembly has called for Members to withdraw their Membership from the Congressional Azerbaijan Caucus, and given the ongoing violations by Azerbaijan, renews its call.
Working in tandem with the Assembly Co-Chairs and helping to lead the charge, long-time Board Member Annie Totah organized several Assembly delegations and held numerous meetings with elected officials to reinforce the Assembly's message. Totah met with, among others, Senator Tim Kaine (D-VA), Senator Chris Van Hollen (D-MD), House Minority Whip Rep. Steny Hoyer (D-MD), Rep. John Sarbanes (D-MD), and freshman Rep. Anthony Brown (D-MD).
An Assembly delegation with Totah met with Sen. Van Hollen, who serves on the Senate Appropriations Subcommittee on State, Foreign Operations, and Related Programs. They relayed the importance of U.S. assistance to Armenia and Artsakh, and shared the testimony submitted by Assembly Executive Director Bryan Ardouny to the Subcommittee for Fiscal Year 2018 highlighting key priorities, including deep concerns regarding Azerbaijan's deadly ceasefire violations and its targeting of civilians occurring more frequently with recent reports of continuous attacks at the line of contact.