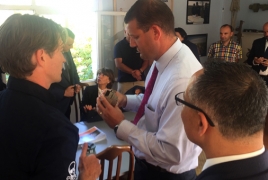 September 18, 2017 - 16:33 AMT
PanARMENIAN.Net - Congressional Armenian Caucus Co-Chairman David Valadao (R-CA) visited Artsakh (Nagorno Karabakh) on Monday, September 18, where, alongside government officials and ANCA Chairman Raffi Hamparian, he reviewed life-saving HALO Trust de-mining programs that he has helped fund as a leading member of the House Appropriations Committee, reported the Armenian National Committee of America (ANCA).
"It is great to be here on the ground, in Artsakh, with Representative Valadao, author of the ANCA-backed U.S. House amendment funding the Artsakh aid program," said ANCA Chairman Raffi Hamparian. "Witnessing firsthand America's life-saving, peace-making contribution to the future of the Republic of Artsakh is, for sure, a proud moment for all Armenian Americans."
The trip comes just two weeks after Rep. Valadao introduced an amendment, adopted by the U.S. House of Representatives, calling for continued U.S. assistance for the HALO Trust's de-mining efforts across the interior farmlands and villages of the Artsakh Republic. The Valadao Amendment was approved by voice vote, as part of the FY 2018 foreign aid appropriation, which, in turn, is part of a broader spending measure (H.R. 3354), approved on September 14th.
During his meeting with the HALO Trust's Regional Director Ash Boddy and local leaders, portions of which were broadcast live on their Facebook page, Rep. Valadao saw first-hand the lifesaving efforts of the organization, which, over the last 16 years, has destroyed over 8,733 anti-personnel mines, 2,584 anti-tank landmines, 180,858 small arms ammunition, 12,423 cluster bombs and 48,572 other explosive items in Artsakh. The HALO Trust looks to complete Artsakh de-mining efforts by 2020.
The visit comes a day ahead of a Congressional delegation trip to Armenia, marking the September 21 anniversary of independence and exploring expanded bilateral economic and political cooperation. In addition to Rep. Valadao, the delegation includes fellow Congressional Armenian Caucus Co-Chairs Jackie Speier (D-CA) and Frank Pallone (D-NJ), Representatives Anna Eshoo (D-CA), Tulsi Gabbard (D-HI) and James Sensenbrenner (R-WI).