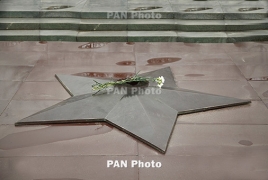 September 19, 2017 - 12:13 AMT
PanARMENIAN.Net - During search operations in Ukraine's Zaporizhia Oblast in late August, the remains of an Armenian soldier and participant of the Great Patriotic War were discovered, Rusarminfo reports.
"Davit Ter-Poghosyan (father's name - Poghos), born in 1904. He was a native of the city of Leninakan (now Gyumri), was registered at the address 37th street, house 11, but was called by the Stalin RVC from Yerevan. According to the documents found, his wife Sonya Voskanyan (father's name - Mamikon) was born in Yerevan," head of the search team from the city of Kerch Natalia Dzyuba said.
She also said that the search group really hopes to find the relatives of the Armenian soldier.
"For now we'll wait and hope that Davit Ter-Poghosyan has relatives. But if we are unable to find them, the administration of Zaporizhia Oblast will appoint the date for the burial and conduct it without his relatives," Dzyuba said.