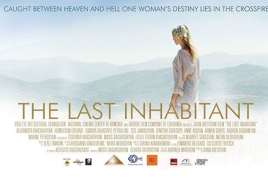 September 21, 2017 - 13:23 AMT
PanARMENIAN.Net - The feature film "The Last Inhabitant" by Armenian filmmaker Jivan Avetisyan about the ongoing conflict in Nagorno Karabakh (Artsakh) is playing in select theaters in Los Angeles, System Of A Down frontman and composer Serj Tankian revealed in an Instagram post.
"It was really great to see the film #thelastinhabitant and hear my score for it at Pacific Theaters at the Americana in Glendale a few days ago. It's playing in select theaters in LA," the singer wrote.
"@thelastinhabitantfilm an emotionally charged indie drama about the ongoing conflict between Artsakh and Azerbaijan has upcoming screenings in Whittier and Costa Mesa this weekend," Tankian said in another post on Instagram.
"If you missed out on the showtimes in Glendale this past week, here's your chance to catch an upcoming screening of this film directed by Jivan Avetisyan that I composed the musical score for."
Avetisyan's eighth feature film, "The Last Inhabitant" centers around Abgar, the only Armenian of Christian faith left in the village of Gyurjevan, now devastated and in near ruins, after everyone else has been deported. Because of his skills as a stonemason, he is assigned to help build a mosque by the Azeri occupants. He also has to take care of his daughter Yurga, traumatized after witnessing her husband's murder. As the situation deteriorates around them with increasing enemy danger and lack of food, they find solace in their memories of an idealized past, when peace and happiness still prevailed. The last resort for those who have not much to hope for. With its often elegiac and poetic approach the film is able to achieve a touching portrait of survival and at the same time humanizing the protagonists and their fate, how tragic it may be.