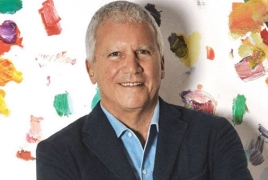 September 22, 2017 - 16:48 AMT
PanARMENIAN.Net - Armenian-American art dealer Larry Gagosian, who is known as the Picasso of art dealers, has shared a story in the framework of a Forbes project on its centennial.
The magazine assembled 100 essays from the top entrepreneurs, visionaries and thinkers, each sharing an idea or lesson.
"There was a painting that Si Newhouse wanted to buy in the early 1980s -- "Aloha" by Roy Lichtenstein. I had sold several paintings from that collection to him, and this Lichtenstein was $1 million. Only a handful of paintings had sold for $1 million at that time. So I said, "Let's write them a check." And Si, who is a billionaire, said, "No, I'm not going to write a check for $1 million. Let's pay them $100,000 a month." And when I asked him why, he said, "I don't want them to think that money comes that easily." If he were willing to write a check right away, he explained, it would influence the negotiation. It was a shrewd lesson, especially since "Aloha" would later become worth well over $100 million," Gagosian wrote in his story.
Also, quotes from Bono, Bill Gates, Oprah Winfrey, Donald Trump, Mark Zuckerberg and many other great minds have been included in the compilation.