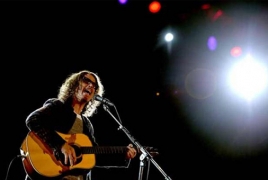 September 29, 2017 - 10:46 AMT
PanARMENIAN.Net - Chris Cornell's widow Vicky has said that the musician was deeply affected by the Armenian Genocide.
The full video of Vicky Cornell accepting the L.A. Chefs for Human Rights Hero Award on behalf of her late husband, the Soundgarden frontman, earlier this week has now surfaced.
Chris Cornell was honored at a fundraising event for Program for Torture Survivors (PTV) at the award-winning restaurant Cassia for his humanitarian efforts and his original song and music video "The Promise."
"Chris was deeply affected by the Armenian story, one of our close friends is Dr. (Eric) Esrailian, the producer of the film and the great grandson of survivors of the Genocide," she said.
"He also understood how profoundly my own Greek family had been affected by the events of 1915. My grandparents had themselves been refugees. Because of these human stories, he wanted to use the song to reach people in their hearts. Through music, he wanted to spread the message that we have a shared humanity, that we must care for each other and not turn our backs on the atrocities being committed against innocent people. The more Chris learned about this dark chapter and the history of the Armenian people, he couldn't help but acknowledge the similarities in what is happening in Syria today, among other countries."
In 2017 Cornell wrote the theme song for "The Promise", ultimately becoming one of his biggest hits. Cornell cited a connection with "The Promise" through his Greek wife, whose family had been affected by the Armenian, Greek, and Assyrian Genocide. This prompted his family to tour refugee camps in Greece, where they formed the Chris and Vicky Cornell Foundation, to help aid child refugees and the issues affecting them. At the time of the song's release, Cornell stated, "[The Promise] is mainly about paying homage to those we lost in the Armenian Genocide, but it's also about shining a light on more recent atrocities."