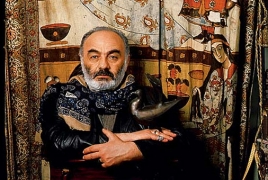 October 7, 2017 - 13:38 AMT
PanARMENIAN.Net - In an article published on Saturday, October 7, Maddy Pulman-Jones from the British newspaper Varsity turns to the finer films of the Soviet Union, paying particular focus to the works of Sergei Parajanov, a Soviet film director and artist of Armenian descent, who is regarded as one of the greatest visual poets of the world.
"Born in Soviet Tbilisi to an artistic family of Armenian descent before forging a cinematic career in the USSR, the iconoclastic pan-Caucasian auteur became a pioneer of lyric cinema. His rejection of social realism, as well as his unorthodox lifestyle, led to almost all of his work being banned when originally released in the USSR," the article says.
"Despite the Soviet establishment's attempts to sabotage Parajanov's career, his pursuit of freedom of expression embodies a utopian bohemian ideal to this day."
The author of the article confesses that before watching the "Shadows of Forgotten Ancestors", she had only seen 1969's The Colour of Pomegranate", which she saysremains Parajanov's most influential and controversial work.
"His aim was to narrate the life of Armenia's national poet, Sayat-Nova, in a way that borrowed from and translated to the screen the essence of Sayat-Nova's own poetry. Almost entirely without dialogue, a mixture of still lifes, tableaux and abstract scenes saturated in deep colour depict Sayat-Nova's life in eighteenth-century Armenia. Though previously regarded as deliberately obscure, the film remains accessible and exciting even to a modern audience totally unfamiliar with Parajanov's work, or with its source poetry," she goes on to describe the latter movie.
"The films of Sergei Parajanov are not only enduring classics of art-house cinema, but also a new lens through which to view the inspiration of a new generation of Russian artists – and well worth seeking out, now that it is in the public domain."