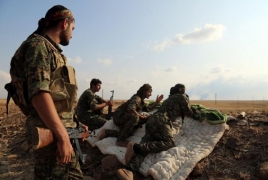 October 10, 2017 - 13:26 AMT
PanARMENIAN.Net - Over the past 24 hours, the US-backed Syrian Democratic Forces (SDF) have swept across the northern countryside of Deir ez-Zor, brushing aside all Islamic State resistance in the process, Al-Masdar News reports.
According to a Kurdish military source close to Al-Masdar News, the SDF has captured the villages of Zughayr Kabeera, Huwayj Diyab, Abu Ghaminah and Muhaymidah in a 10 kilometer southwards thrust along the eastern bank of the Euphrates River.
Meanwhile, preliminary reports indicate the Syrian Arab Army (SAA) has simultaneously captured the eastern side of the destroyed Al-Siyasah bridge on Tuesday morning after advancing from the newly liberated village of Hatlah Fokkani.
If this proves to be the case, the SAA has finally completed the encirclement of jihadist forces in the provincial capital of Deir ez-Zor, thereby cutting them off from the Islamic State heartland.
With two rival anti-IS offensives, known as the 'Big Dawn' and 'Al-Jazirah Storm', unfolding in Deir ez-Zor, both the SAA and SDF hope to landgrab as much oil-rich territory in eastern Syria as possible.