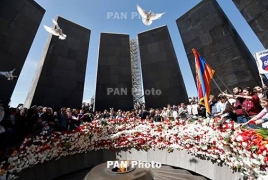 October 11, 2017 - 10:47 AMT
PanARMENIAN.Net - Turkish and Armenian Christians recently gathered together in Calvary Chapel for a reconciliation chapel service hosted by the department of history and the department of biblical and theological studies, The Biola University Chimes reveals.
The moderator, a youth pastor of Armenian descent, led three Turkish and one Armenian panelists in discussions about Turkish and Armenian peace.
Over a hundred years have passed since the Armenian Genocide when the Ottoman Empire murdered and drove out over 1.5 million Armenians. The Genocide began in 1915 near the start of the first World War. Nearly two million Armenians lived in the Ottoman Empire in 1915, but after the war, less than 400,000 remained. Despite these numbers and historians' claims, the Turkish government denies the existence of the Genocide to this day.
Because of the pain their ancestors endured, many Armenians have never forgiven the Turks, and for Turks, to admit the genocide is to deny your country. The division among the two people groups has spread even into the church. Consequently, a chapel such as this one proved monumental, and even dangerous, for the Turks and Armenians and displayed the power of forgiveness in God.
"We are the sons and daughters of one Father, so it becomes a big family. I mean, you should see us when we are sitting together. We've been having tea and eating, and both sides love eating and sitting and chatting and having tea, chai as we all call it," Obe of the Turkish panelists said. "It's heavenly and there's no barriers. And I think that is what, I would say, the hope of this chapel atmosphere gives."
"I would have never seen myself there just because it's hard to believe that there are Turkish people who are willing to seek forgiveness for the genocide," said Isso Avetisyan, sophomore sociology major whose parents emigrated from Armenia. "Just to be able to forgive them and have forgiveness in return. It was just very special."