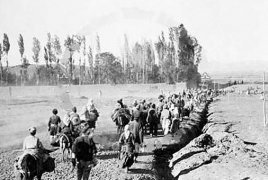 October 13, 2017 - 10:26 AMT
PanARMENIAN.Net - Recently released on DVD, "The Promise" is a new drama about an old conflict that many people know very little about. Insights has spoken with an Armenian Christian to get his first-hand review of how Hollywood has treated one of his nation's most horrific periods.
Set against the backdrop of the Armenian Genocide which occured for about one decade from 1915, The Promise centres on Armenian student Mikael (Oscar Isaac), Armenian-born Ana (Charlotte Le Bon) and Paris-based American journalist Chris (Christian Bale). Around their affairs of the heart, escalating tensions between the ruling Ottoman Empire and Armenians flare into ethnic cleansing.
Chris Zakaryan is an Armenian-born bloke who lives in Sydney and works as a Financial Analyst with Uniting Financial Services. Unlike you and me, when Chris watched "The Promise", he knew whether it was fact or fiction.
"For us Armenians, we know a lot more, so we can find bits and pieces which are not quite sticking together," reports Chris about The Promise. "But for someone who doesn't know anything, I think it was a great introduction to motivate someone to do more research, to find out a bit more."
The deep-seated faith of Armenians is "not touched on in great detail by The Promise," says Chris. "But it makes it obvious that Armenians are Christians, Turks are Muslim, and there is a clash of religions."
"I think a big part of why it happened is because we were Christians and Armenians; it was clearly on faith grounds.
"It was a massive disaster for Armenians; and, not only for Armenians, it was a very sad moment for all of us humans. I think [those events] show the dark side of what we can become if we completely forget who we are and who we are created by. We are created by God and if we forget that, [the Armenian Genocide] shows what we can become."
Given Chris has grown up in a culture that continues to be shaped by the events which "The Promise" touches on, what is it like for him to be an Armenian Christian? Chris shares that forgiveness is a defining characteristic of his people, while pointing out his personal identity is anchored in something much greater than national pride, tradition or experience.
"It's important not to forget or ignore what happened but I'm very thankful to God that that's not what defines me. I look at it as something tragic that has happened in our history and we can learn a lot from it. But also, and more so, when I look at the Armenian Genocide, I see the amazing stories of compassion that other nations have showed to Armenia. Also, some miraculous stories of some people who were saved. That's another piece of evidence for me that even though things happen in life and you can't eliminate bad things from happening around you, one thing that is constant for me is I know for sure nothing can separate us from the love of God that is in Jesus Christ."
"Not life nor death, or even if you think there is a distance between you and God, can separate you from his love. His love is eternal, his plans are great and his arms are open always.
"Another thing I have never dwelled in – and I think it's the same for a lot of Armenians – is hate. The movie has showed that the Armenian response is not hate. In The Promise, Ana says sadly but proudly: 'Our revenge will be to survive.' So, it's not 'we will do the same as they did to us.' It's 'we will survive and prove to them that nothing can extinguish Armenians. We believe God will always keep us here.'"
"The Turkish government wanted us wiped out. They thought they almost succeeded but I wish they could see Armenia now; it's a thriving and successful country.
"I think about Armenia like it's a 'great comeback' and it's happened, I believe, because God was, is and always will be with us."