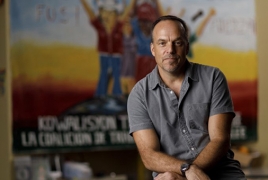 October 20, 2017 - 13:21 AMT
PanARMENIAN.Net - John Hopkins University alumnus Greg Asbed, who is a descendant of an Armenian Genocide survivor, was awarded a MacArthur fellowship, or a "genius grant," last week for his efforts to improve workplace conditions for farmworkers in Immokalee, Florida, The Johns Hopkins News-Letter said.
Every year, The John D. and Catherine T. MacArthur Foundation awards about two dozen $625,000 grants to individuals who have demonstrated "exceptional creativity" and "promise for important future advances."
The MacArthur Foundation is a philanthropic organization that addresses global issues such as climate change, mass incarceration and threats to independent journalism. Recipients of the "genius grants" are anonymously nominated and selected by a committee, which has given 942 awards since 1981.
Asbed said that he is committed to improving human rights because of his family history as a first-generation Armenian American. His grandmother survived the Armenian Genocide after being sold to a Turkish family when she was 13.
"In our family, the idea of universal human rights has always been a central tenet, sort of our family's 10 commandments," he said.
Asbed co-founded the Coalition of Immokalee Workers (CIW), a worker-based humans rights organization. Within CIW, he developed the Fair Food Program, a system that helps protect workers from human rights violations like workplace harassment, sexual assault and wage theft.
Asbed is currently developing the Worker-Driven Social Responsibility Network, which aims to spread systems like the Fair Food Program to underrepresented workers around the world to improve the livelihood of millions.
Asbed said that he feels lucky to be part of a community which shares his vision of universal human rights.