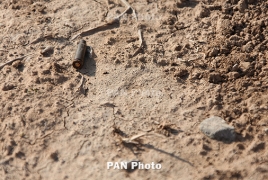 October 27, 2017 - 16:35 AMT
PanARMENIAN.Net - Armenian peacekeepers will soon train at a newly-renovated educational camp thanks to the country's military partnership with the United States, the U.S. embassy said in a Facebook post.
The Zar Mililtary Training Center will serve as a main center for Armenian peacekeepers preparing for international peacekeeping efforts.
Next week a ribbon-cutting ceremony will reveal the renovations funded by both the Global Peace Operations Initiative (GPOI) and Foreign Military Financing programs.
The Armenian army's Peacekeeping Brigade has received considerable financial and technical assistance from the U.S. and other NATO member states ever since it was set up in the early 2000s. NATO assigned a higher degree of combat readiness and interoperability to the brigade after monitoring a four-day exercise held by it at the Zar facility in 2015.
More than 130 soldiers of the brigade are currently deployed in Kosovo, Afghanistan and Lebanon. Armenia plans to join more peacekeeping missions abroad with specialized medical and demining units. They will undergo NATO training before their deployment.